Major Somnath Sharma is the first recipient of Param Vir Chakra (PVC), He received this gallantry award on 21 June 1950 for his selfless sacrifice on 3 November 1947 in the battle of badgam. He is a great leader and a soldier. life of great leaders like Somnath Sharma will keep guiding us generation after generation. We at CLEAR SSB grab this opportunity of saluting PVC Major Somnath Sharma and every soldier of this great country called India.
Childhood of Major Somnath Sharma
Somnath Sharma was born on 31 January 1923 at Dadh, Kangra, then in the Punjab province, the present-day state of Himachal Pradesh. Somnath got love for uniform in inheritance, his father Amar Nath Sharma, was also a military officer. His uncle Captain K D Vasudeva who was also in his battalion also greatly inspired Sharma.
Somnath Sharma completed his schooling at Sherwood College, Nainital, before enrolling at the Prince of Wales Royal Military College in Dehradun. He later studied at the Royal Military College, Sandhurst. During his childhood, Somnath Sharma was greatly influenced by the teaching of Krishna and Arjun in the Bhagavad Gita, taught to him by his grandfather.
Somnath in Military
Upon his graduation from the Royal Military College, on 22 February 1942, he was commissioned into the 8th Battalion, 19th Hyderabad Regiment, of the British Army.
Later after independence British Army was converted into the Indian Army and 8th Battalion was converted into 4th Battalion, Kumaon Regiment. During the second world war, he saw action in Arakan, Burma against Japanese. Somnath Sharma was mentioned in despatches for his action during the fight of Arakan Campaign. ( In military mentioned in despatches is one soldier whose name appears in an official report).
Battle of Badgam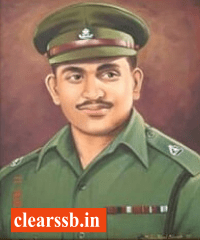 In response to invasion by Pakistan into the Kashmir Valley, which is an integral part of India on 22 October 1947, a batch of troops of the Indian Army was deployed on 27 October 1947. On 31 October, D company of 4th Battalion of Kumaon Regiment under the command of PVC Major Sharma was airlifted to Srinagar. At that time his left hand was in plaster as a result of injuring sustained on hockey ground.
On 3rd November, three companies were deployed to the Badgam are on patrol duties. The task given to them was to check the movement of the infiltrator moving toward Srinagar from the north. As there was no enemy movement so two companies returned to Srinagar. However, Sharma's company was ordered to stay in position till 3:00 pm. At 2:35 pm Somnath's company was fired upon from the local resident houses, but the counter fire was not ordered in order to avoid civil casualties, soon his company was surrounded by Lashkar from three sides. His team sustained heavy casualties from mortar fire.
When heavy casualties adversely affected the firepower of his team, he took upon himself the task of distributing ammunition to his men, operating a light machine gun. Then a mortar shell exploded on an ammunition pile near him. Before he succumbed to his injuries, he transmitted a message to his brigade's headquarter.
" The enemies are only 50 yards from us. We are heavily outnumbered. We are under devastating fire. I shall not withdraw an inch but will fight to our last man and our last round" – Major Somnath Sharma, Battle of Badgam, 1947.

Major Somnath Sharma
What you think about this article please, let us know in comment section down below.
JAI HIND!