At CLEAR SSB we are on the mission of making SSB Interview arrangement as adaptable, affordable, and result-situated as conceivable on the grounds that as we would see it excursion ought to likewise be charming, and when we learn in the manner in which we like, the excursion of readiness additionally gets fun. So we have made numerous arrangement techniques, you can browse the strategy you like the most to help your SSB Interview planning. Since the lone dream we Charise at CLEAR SSB is to see you in uniform.
We put stock in the way of thinking of learning by doing and dominating by continue to do, subsequently, we have made a framework where wannabes can rehearse for Group Discussion, lecturette, and individual meetings over video gathering. We additionally have a gathering where the applicants can pose inquiries and answer other's inquiries in this manner can establish a planning good climate.
CLEAR SSB is a one-stop answer for SSB Interview arrangement. We remember even the littlest necessity of applicants, assuming you have any idea or input for us, please email us, we will be satisfied. We have an authoritative ethos that we generally take each input in a helpful manner, it very well might be from our understudy, utilize, or instructors since criticisms are directing light for us.
You must have heard a famous Bollywood dialogue मैं अकेला ही चला था जानिब-ए-मंज़िल मगर लोग साथ आते गए और कारवाँ बनता गया. This also explains our journey so far, I would like to thanks all the military officers and doctors, who joined us.
The sole aim of CLEAR SSB is to make SSB interview the easiest interview for the aspirants. The recommendation rate of SSB interview is low, not because it's difficult but because aspirants treat it like any other interview.
SSB Interview is a test of your personality, not of your knowledge and it's where most of the aspirants make mistakes, not anymore now we are with you.
I feel privileged talking with you (Future Officers). Connect with me on social media.
JAI HIND!
CLEARSSB is an answer to many of the questions of SSB Interview aspirants. Like how to find someone to practice for group discussion, group planning exercise, and lecturette. Or how to find a retired military doctor in your neighborhood for a medical checkup before your SSB. Or how to check your preparation before going for SSB.
We know there may be many questions that are yet to be answered, but CLEARSSB will answer each and every question.
We at CLEARSSB always strive for becoming the most helpful and effective platform for all defense aspirants. If you have an idea which may help us in improve our services then please enlighten us.
JAI HIND!
Lt Gen Ajai Sahgal has served in Army for 39 years. He retired as Director-General Army Air Defence. Have headed the Army Air Defence College at Gopalpur and Selection Centre Central Bhopal. Had a distinguished military career and awarded AVSM (Ati Vishisht Seva Medal) as well as VSM (Vishisht Seva Medal) for outstanding contributions.
He is an expert Interviewing Officer, trained at the Defence Institute of Psychological Research, New Delhi. He has conducted interviews of more than 2500 officer candidates.
Lt Col Jayakumar from the Regiment of Artillery, retired from the Indian Army in 2004 after Commanding a Light Regiment.  He is an Instructor in Gunnery, with MBA, MS (Psychotherapy and Counselling) and a Diploma in Personality Assessment from the Defence Institute of Psychological Research, New Delhi.
During his service in the armed forces he has been deployed mostly along the Line of Control in bunkers carrying out several Trans Line of Control Operations.  He was one of the pioneer team leaders of High Risk Mission – to establish posts on the Siachen Glacier in 1984.
He was a Member of the Services Selection Board dealing with Psychological Testing for selection of Officer Trainees in the Army, Navy and Air Force.
He has been actively involved in training students for placement.  He has first hand experience Aptitude Testing, conducting and evaluating Group Discussions and Personal Interviews besides training Companies, and Colleges in Leadership, Team Building, Stress Management etc., through Out Bound Experiential Learning Programmes.
He has been a guest speaker on Emotional Intelligence for the "Visionary Leaders in Manufacturing Programme" being conducted "jointly" by IIM Calcutta, IIT Kanpur and IIT Madras.   
Group Testing Officer (GTO)
Lt Col Alok Kumar Das is an alumnus of IIM Indore, an ex-Army officer, and personality assessor on group dynamics (GTO) on leadership qualities. He has 18+ years of leadership experience. He is working with CLEARSSB as a mentor. 
Dear Students,
In the current scenario when the "good jobs" are in short in the market, defense forces provide an opportunity to have a job that is not only well paying and respectful but which allows one to serve and contribute towards the growth and security of the nation. Apart from that defense forces allows you to develop diverse skill sets which allows one to be productive lifelong. Increasing awareness, literacy, and population have raised the competition, thus getting into defense forces now requires dedicated and well-planned preparation.

I invite you to be a part of CLEARSSB family and allow us to be a catalyst in your career.
Best wishes
Dr Dilbaag Singh
Ex Assistant Commandant
UGC NET, PhD in Education
I am Saswati Ray…Teaching is my passion, not a profession. With over 15 years of experience, I am adept at motivating students and promoting effective learning by setting clear tasks and challenging but attainable goals. I believe sharing of knowledge is very important for the development of a country. And it's the responsibility of every citizen to inculcate the habit of sharing the knowledge to others who may be eagerly waiting for the same. As I heard I can help someone for learning spoken English, I would like to grab this opportunity …it's not so difficult ..it's only our confidence and practice that makes the difference.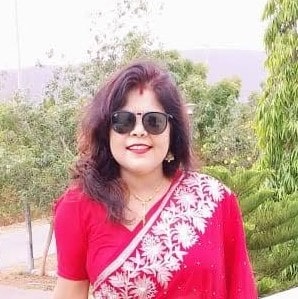 Saroja from Visakhapatnam is a professional teacher cum English trainer who has 20+ years of teaching experience. She teaches English subjects for CBSE students and also teaches spoken English for students and even homemakers. She has worked with different age groups and has gained experience undertaking their psychology and setting her teaching method accordingly.